PREVIOUS
Metrovacesa participates in SIMED and presents more than 300 homes in Costa del Sol
4 mins reading time
14 November, 2022
Metrovacesa closes an agreement with Magno Living for the sale of 172 rental homes in Seville
4 mins reading time
14 November, 2022
With the signing of this Build to Rent agreement, the developer reinforces the strength and quality of its broad portfolio of land in different locations, as well as its attractiveness to institutional investors.
The homes, which will be developed by the developer in two different phases, will be located in the municipality of Dos Hermanas, one of the main areas of expansion of the residential market in Seville.
Madrid, November 14, 2022. Metrovacesa, a leading real estate developer in Spain with more than 100 years of history and more than 120 projects under development nationwide, has signed a new turnkey Build to Rent (BTR) agreement with Magno Living, a joint venture between the US fund Harrison Street and the Italian fund manager DeA Capital to invest in the BTR segment. This transaction involves the sale of a total of 172 homes developed by Metrovacesa in the municipality of Dos Hermanas, in Seville.
Through this transaction, Metrovacesa will develop these homes and Magno Living will use them for rental housing, expanding the supply of quality affordable residential housing in Andalusia. Specifically, the homes will be distributed in two different residential developments. The first of these, Hespérides III, will have 86 units of between 2 and 3 bedrooms, distributed over 9 floors and will be equipped with a swimming pool, landscaped common areas, storage rooms and parking spaces. On the other hand, Metrovacesa will develop a second development, Hespérides IV, with similar characteristics. It will also have 86 homes with 2 and 3 bedrooms, parking spaces, storage rooms and will also have a swimming pool and landscaped common areas. Both projects will enjoy a privileged location, specifically in the Entrenúcleos area, in the Sevillian municipality of Dos Hermanas, where Metrovacesa has two other developments (Residencial Hespérides I and Hespérides II, totaling 255 homes) for traditional sale or Build to Sell, which have been very well received in terms of demand.
In the same area, Magno Living also recently closed the purchase of land to develop 297 homes, which it expects to integrate with the units developed by Metrovacesa to create a new community of more than 1,200 tenants.
Residencial Hespérides III is currently in the construction phase, with construction work having started at the beginning of the year, and the homes are expected to be delivered by the end of 2023. As for Hespérides IV, which already has a building permit, construction will begin before the end of this year, with a target delivery date of the end of 2024.
This new agreement reinforces and consolidates Metrovacesa's strategy in the turnkey residential rental sector, and is in addition to 8 other projects of the same type that have already been completed with other institutional investors, which now total more than 1,000 homes. This transaction also demonstrates the
strength of its broad and diversified land portfolio, which is highly attractive for meeting the needs of both domestic and international institutional investors.
Of these other developments, the first, in Arganda del Rey (Madrid), has already been delivered. The remaining developments are currently in the development phase, in various locations such as Madrid, Barcelona, Mallorca, Valencia and now in Seville.
Spain's growing investment attractiveness
The alliance between Harrison Street and DeA Capital was born with the aim of boosting residential rental housing in Spain, through the development of a portfolio of 5,000 homes in five years. Magno Living, which has already launched the first developments in Seville and Valencia (1,200 homes under development in the first 6 months of the company's life), seeks to respond to the growing demand in the Spanish market for modern, extensively equipped and affordable rental housing, managed by professional teams.
This also shows that specialized rental operators are becoming a new target customer for developers with quality assets and the capacity to develop large turnkey projects, as is the case of Metrovacesa. In this sense, the closing of this new transaction confirms the trend that has been observed in recent months regarding investor interest in expanding the focus to other locations, beyond Madrid and Barcelona.
Jorge Pérez de Leza, CEO of Metrovacesa, said: "thanks to this agreement we continue to advance in Metrovacesa's commitment to respond to the different profiles of current demand in the real estate market, in different locations and with high quality standards. Also, having the support of international firms such as Harrison Street and DeA Capital reinforces the potential of the Spanish market and its significant investment attractiveness".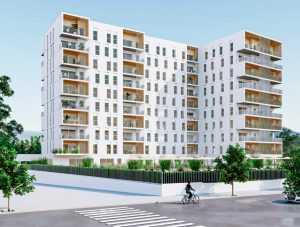 Related articles
Accede en este apartado a todas las noticias de actualidad de metrovacesa
NEXT
Metrovacesa invests more than 18 million euros in two new developments in Puerto de Sagunto