Quality
The quality of the materials chosen, together with the representative designs we use, makes for a series of unique homes.
Sustainability
We are committed to sustainable building and creating homes that respect the natural environment in which they are built.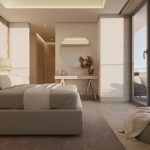 Comfort
We work with the best architects and interior designers so that you can enjoy a home that really changes your life.
Location
At Metrovacesa, we work so that the house of your dreams is in the place where you want to live.
metrovacesa
Find your future home with metrovacesa and live a unique experience at the 2021 Jerez GP with Alex Márquez.
It's your life. Choose how to live it.
Discover it all here
Latest ideas and trends
Posted on , 4 Min. de lectura
Decorating with mirrors
Mirrors come in a lot of different designs and they are a very functional and decorative item. Discover where they came from and the possibilities...