PREVIOUS
How can you sell a house fast? Home staging
2 mins reading time
21 January, 2019
Google chooses Metrovacesa as a case of success
2 mins reading time
21 January, 2019
Segmenting geographically meant a significant increase in leads and conversions
Background
Metrovacesa is currently one of the main players in the national real estate sector with an innovative positioning aimed at improving the user experience. After 100 years of history, Metrovacesa is entering a stage of growth with a solid and differentiating business strategy. Its geographical presence pays special attention to some large cities. Likewise, it is present in tourist areas of first level and in smaller cities with high potential.
Challenge
Metrovacesa decided in 2018 to launch a digital strategy with a double objective: to improve brand positioning and generate business leads that lead to conversions.
Approach
Metrovacesa took a step further in the relationship with its customers, extending this concept to anyone who would have shown interest in any of the houses in the different channels without having bought it yet. In this sense, the digital strategy was based on Google Ads Search campaigns. They segmented the campaigns by type and status of the housing promotion, by target and by geolocation, and adapted the content to each specific case of brand or generic. Metrovacesa opted for the best mix of the on and off strategy, as an example of its experiential and immersive bus that traveled through Spain where customers could view promotions with VR.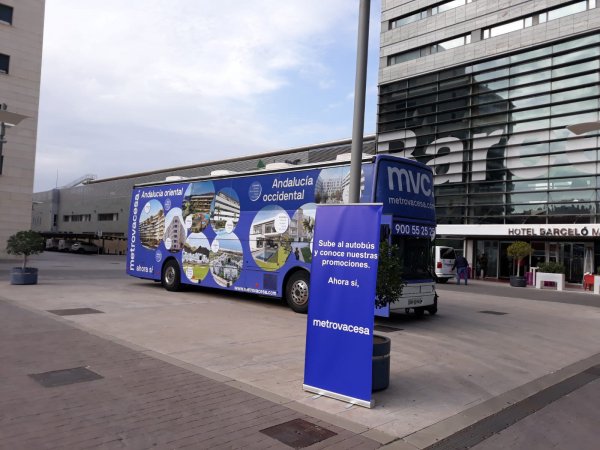 Results
With the digital marketing campaigns, they managed to create a strong brand recognition consolidating its position as one of the leading promoters in the top of mind of the consumer. In addition, the conversions that came from geolocated Google Ads campaigns were 80% higher. And assisted conversions 140% higher. The fact of segmenting geographically allowed them to achieve 45% of leads, while non-segmented campaigns only achieved 25%.
Market impact
For the near future, Metrovacesa aims to reach international customers with Google Ads. They want to be able to position themselves correctly in the countries where they have an interested public and to reach these investors, thus improving the profitability of these leads.
Colaboration with #hmg
To execute its digital strategy, they hired a Google partner, HMG. The agency helped them implement the actions for each of the housing promotions that were taking place. With them they got an optimal performance of their campaigns adjusting the budget by promotion, by target and by geolocation. The flexibility and agility of HMG was and continues to be a plus when reorienting campaigns according to results.
80% Higher conversions of geolocated campaigns 140% Higher assisted conversions of geolocated campaigns 45% Of the leads come from geolocated campaigns
"The best strategy of marketing will be the one that efficiently integrates the capture of leads in the online world with personalized attention within the relationship model with customers." Carmen Chicharro, Innovation and Marketing Director in Metrovacesa
Related articles
Accede en este apartado a todas las noticias de actualidad de metrovacesa
NEXT
Metrovacesa appoints Juan Carlos Calvo as Head of Investor Relations
X
Hola, soy Ana. Estoy aquí para resolver tus preguntas. ¿En qué puedo ayudarte?